Dinosaur Valley State Park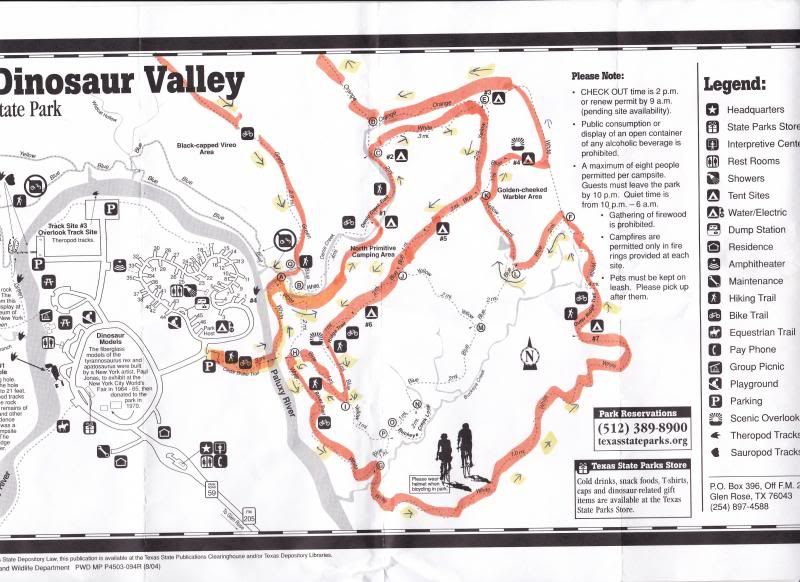 Current Dorba Loop


Always call before making the drive when weather is questionable. 254.897.4588 Dial 0 to speak to ranger 1 for trail conditions.

Trail Steward: James Black
Email the trail steward: [email protected]

Real rocks. Real elevation changes. Dinosaur Valley State Park, or DV as we say, is a mountain bike treasure located 5 miles out of Glen Rose Texas. The trial system is mapped pretty well, but finding your way around quickly becomes secondary to exploring the 17 miles or so of very diverse and challenging trail. It's Texas Hill Country with limestone everywhere. Parts of the trail use the rocky creekbed with great views of the limestone. There are also more than a few wild, long, downhill runs that will make you wonder how you and your bike can hold together for the trip. A fantastic trail, but caution is advised if your skills are not "rock solid". Take it easy and enjoy the scenery. Exploring these gems is a big part of the lure here. Lot's of fire-breathing climbs. This is not the best groomed trail around, but it may the best mountain bike adventure you can have in North Texas. Not heavily used, Seemingly remote. Highly recommended.
Website: http://www.tpwd.state.tx.us/spdest/findadest/parks/dinosaur_valley/
Phone: 254.897.4588 x0
Dino Valley and Solavaca trails from Braham B on Vimeo.
Location
Trailhead
United States
32° 14' 58.8624" N, 97° 48' 49.8744" W