Trail Location
6600 Pastor Bailey Dr. Dallas, TX 75237
Google Map
Social
Boulder Park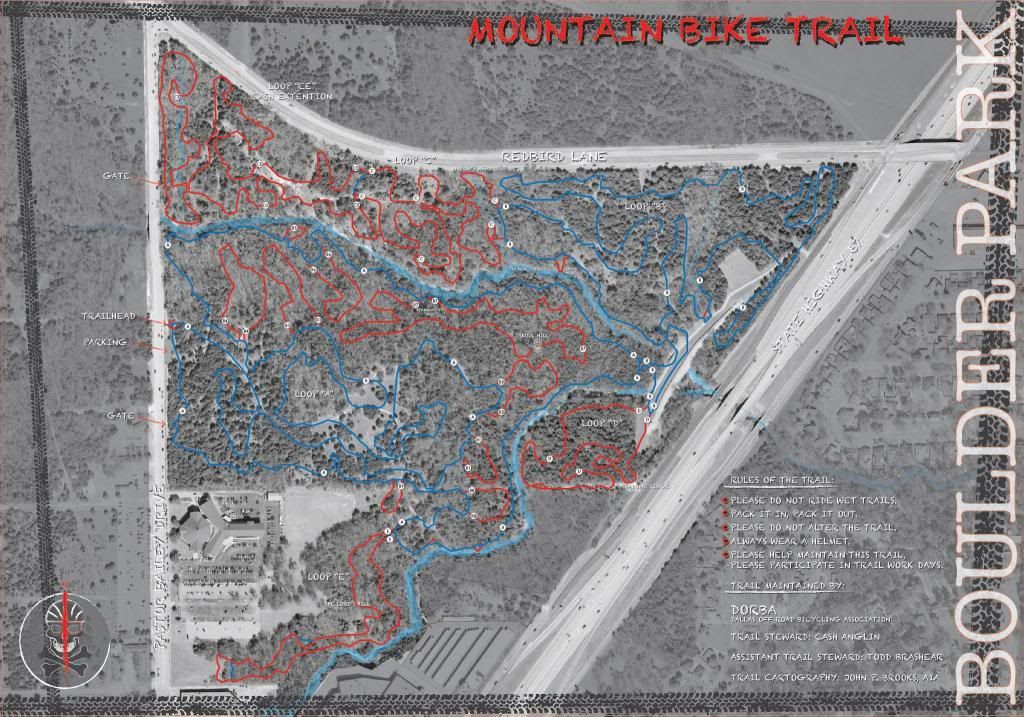 Current weather for Boulder Park http://w1.weather.gov/obhistory/KRBD.html

Printable map http://dorba.org/forum/viewtopic.php?f=46&t=6157

Follow us on Facebook too!
Trail Steward
Allen Powell

Assistant Trail Stewards
Angel Martinez
Daniel Vega
Interested in becoming a Assistant Trail Steward?
Email me at the link below.

Email us at: [email protected]

Type
Single Track - Stacked Loops


Blue arrows - Beginner/Intermediate
(bypasses for some of the more difficult sections, about 6 miles)
Red arrows - Intermediate/Advanced
(the whole trail, about 12 miles)
Black ◊ - Advanced
Distance
12 miles
Description
Some fields, lots of woods, rocky sections, and lordy! look out for the slime on those creek crossings! This is an awesome trail, several climbs that will work your legs little, a lot of twisties to keep you awake, or smack you awake should you doze. A few fast sections too, just to keep it from being all work. There are two loops marked for different skill levels. Follow RED for the entire Boulder experience; all the hills, rocky descents, dips, and wet creek crossings. Following the BLUE bypasses the harder stuff, mostly friendly enough for the whole family.

Loop A - main loop, begins and ends at trail head -

red

&

blue

Loop B - northeast corner -

red

&

blue

Loop C - north side, west of section B -

red only

Loop D - southeast corner, at south end of levee -

red only

Loop E - south side (behind Concord Church) -

red

Cash Extension - Northwest section. Splits off of C Loop -

red
Nearest City
Dallas
Directions
6600 Pastor Bailey Dr.
Dallas, TX 75237
Located north of Duncanville, at the SW corner of Hwy 67 & Red Bird Lane (about 1 mile north of the I-20 & US 67 intersection). [MAPSCO 63T] Hwy 67, Red Bird Lane, and Pastor Bailey Drive make the East, North, and West borders of Boulder Park. From 67, exit Red Bird Lane, go West about 1 mile, then South (left) on Pastor Bailey Drive. (you'll be driving around the perimeter of the park to get to the parking area) Parking is available on Pastor Bailey Drive, or on the side streets, Hallet and Calhoun, located on the West side of Pastor Bailey Drive if the parking lot is full. DO NOT park in any church parking lot. The trailhead is located at the left of the parking lot.
Hours
6AM - 11PM
Land Managersl
Dallas Parks and Recreation Department
Concord Church
Other private land owners
Facilities
• Porta Potty at the trailhead.
• Restaurants, gas, etc on Camp Wisdom Road, at the Southern end of Pastor Bailey Drive.